Lots of people have lost all their teeth in either the upper or lower jaw, or both jaws. As a result dentures are still a popular and affordable way of replacing all the teeth in the mouth, but they are not without problems. One particular issue about tooth loss is the way the bone in the jaw gradually reabsorbs. This occurs as the bone no longer receives any sort of stimulation from the natural tooth roots, and as a result the ridge that used to support your teeth will gradually become flatter.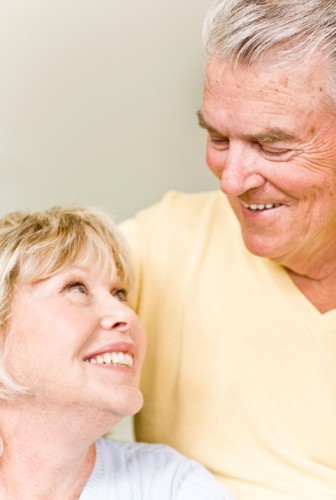 Bone loss can be a particular problem for denture wearers, as it reduces the amount of retention available. Normally lower dentures rely on the bony ridge to hold them in place and for retention, and as this gradually flattens the denture is more likely to move around which can be embarrassing and uncomfortable. It's not such an issue for upper denture wearers as the denture is made to cover up the roof of the mouth, giving it reasonable retention. In spite of this it's still not an ideal solution, especially as an upper denture can feel quite large and bulky and it covers up all the taste buds in the roof of the mouth which makes eating less enjoyable. This is where using dental implants in Bromley can really help.
Using Dental Implants to Support a Lower Denture
Dr Zaki Bashir can place a few dental implants towards the front of mouth to support an entire lower denture. It can take just 2 to 4 dental implants to support the denture, bringing the cost of treatment well within the reach of most people. The denture clicks on to the dental implants so it's firmly held in position but can still be removed for cleaning.
If you currently struggle with a loose denture then this can make a considerable improvement to your quality of life, and you'll also find it a lot easier to eat properly. A good diet is essential for good health, so an implant supported denture could help improve your general health. There'll be no need to use denture adhesives to hold your denture in place, and you'll no longer need to worry that it will move or shift about. It should also be a lot more comfortable to wear, as loose dentures can rub on the gum tissues, creating sore spots.
What about Using Dental Implants for an Upper Denture?
This is certainly possible although you will need more dental implants to hold the denture in position. An upper denture that is retained with dental implants can be constructed in a horseshoe shaped design by your dentist in Bromley, so it will uncover all those taste buds in the roof of your mouth, and you should find eating a much more pleasurable experience.
Using dental implants to support dentures is a great way to stabilise them while not costing a fortune. This technique has already helped many people regain their confidence and self-esteem while wearing dentures. If you are interested in it's well worth contacting Bromley Dental Practice to find out more.