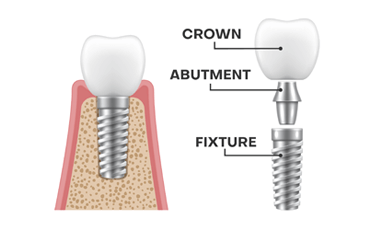 Have you lost all or some of your natural teeth? Embarrassed about the gap in your mouth, missing front teeth, lower or upper teeth? We provide Dental Implants in Bromley at our highly recommended practice (patient recommendations).
Bridges, dentures and flexible dentures are not the only solution, thanks to advances in modern dentistry such as implant treatment. Dental implants are small metal screws that are placed in the jaw so that crowns, bridges and dentures can be fixed onto them to appear like replacement teeth.
Implant dentistry offers a clinically proven and safe solution to getting back a great smile and being able to bite and chew with confidence. When you lose your natural teeth, your jaw bone and surrounding tissues start to resorb or disappear over time. When implants are placed in the jaw, it stimulates the remaining bone to grow and mesh around the metal, along with tiny blood vessels. More importantly, Dental Implants in Bromley help restore function so you can eat, chew and bite without your dentures falling out or having to stick to a soft food diet for the rest of your life.
We'd love to look after you in our practice in Bromley, the staff are friendly, we have state of the art equipment, the latest materials, high quality implant screws and offer a full range of dental treatments. This may be beneficial for patients who need to improve their dental health and oral hygiene before starting their Implant journey.
Contact us for a consultation to help you change your smile and regain your confidence and self esteem.