Dentures are an affordable, fast but less than perfect way to replace missing teeth. Some people will find them easy and comfortable to wear, but quite a few will struggle, and this can get worse after having them for several years. So what is the solution? In fact you have a couple of choices, as you could enquire about having new dentures made at Bromley Dental Practice, or even having your old ones relined if they are still in reasonable condition. Alternatively you might want to find out about having dental implants in Bromley.
Replacing or Relining Old Dentures
Dentures tend to last between three and six years before they need replacing.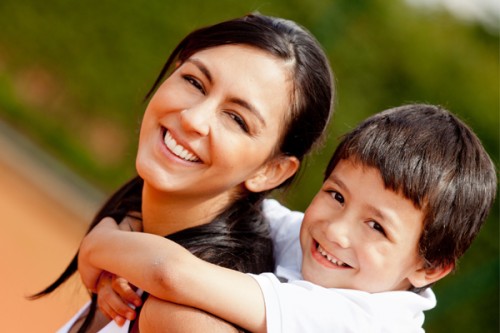 During this time the ridge that used to support your teeth will gradually change shape. It will become flatter and less able to offer any retention to your denture. At the same time your denture might begin to show signs of wear and tear, as they can become broken or cracked, and denture teeth may look worn. One way to extend the life of your denture is to have it relined, a process that renews the fitting surface of the denture (the surface nearest your gums) so it is less likely to move around and should feel more comfortable. However this does not address the real problem which is the flatter bony ridge that will continue to be reabsorbed by the body, gradually offering less and less retention.
Dental Implants: A More Permanent Solution for Loose Dentures
Quite a few people still assume dental implants are an expensive option for securing dentures, but this isn't really the case. An entire arch can usually be secured with just a few well-placed dental implants, and the results can significantly enhance quality of life. You'll have two different options when using dental implants to get rid of an ill-fitting conventional denture. You can choose to have an implant retained denture which can be taken out for daily cleaning, or if you prefer you can opt for a fixed bridge which will be permanently cemented or screwed in position and which can only be removed by Dr Zaki Bashir. While some people will prefer to have a removable appliance, others might find the idea of a fixed bridge more appealing. These are things you will have to discuss with your dentist in Bromley, as they will be able to explain the pros and cons of each treatment.
So where do you start when trying to decide on a new denture or dental implants? Your best bet is to make an appointment for a consultation with your dentist in Bromley. They can take you through each option, step-by-step. If you decide to go for dental implants, you will need a more thorough consultation to assess your dental health and your general health. Dental implants do require quite a bit of planning, and although it's true the whole process will take longer to complete than a conventional denture, the results will be well worth it. Imagine having teeth that stay in position as firmly as natural teeth, and being able to enjoy all those foods you currently have to avoid. The solution could be just a phone call away, so why not find out more today?