Dental implants are easy to look after, but you do need to make sure you care for them properly. This means they must be thoroughly brushed and flossed to make sure plaque and tartar cannot build up around them, and it is important to visit Bromley Dental Practice for regular check-ups with Dr Zaki Bashir, and to book professional cleanings.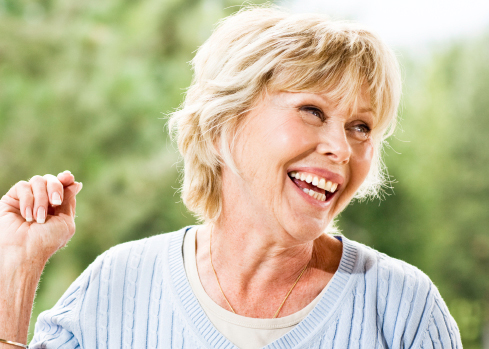 Getting Regular Check-ups for Your Dental Implants
Dr Bashir will examine the implants to make sure they are still fitting well, and are free from disease. Regular dental x-rays will show if the bone levels around the implant are being maintained, and this is essential as good strong bone surrounding the implants will help ensure they remain firmly anchored in the jaw.
Professional Dental Cleanings
Professional cleanings help remove any hardened tartar that might have built up around the implant and which could otherwise mean the gums will become inflamed. Tartar is hardened plaque bacteria, and it can build up if you don't brush and floss properly. Our dentist in Bromley Dental Practice can give you advice on how to brush properly, and how to floss so you remove all the plaque from around your dental implant.
Even though a dental implant is completely inert it is surrounded with living tissue and this can still become infected at any stage, even years after the implant is being inserted. A lack of oral hygiene can mean a condition called peri-implantitis will develop. This is a condition similar to gum disease and it causes the gums to become infected, swollen and inflamed. If not promptly treated this condition could affect the bone levels around the implant, and could mean the implant eventually becomes loose and will fail.
Looking after Implant Supported Dentures
If your implants are being used to support a denture then it's important to make sure you brush and floss around the implants in your mouth, and that you thoroughly clean the implant attachments in your denture. Make sure you bring the denture with you to each appointment so Dr Bashir can check the denture and implant attachments are still in good condition. It's possible some of the implant attachment components will need replacing periodically, and most people need to replace their denture completely every 3 to 6 years.
It's not difficult to look after dental implants in Bromley correctly, and to ensure they remain problem free. Many people have had dental implants in position for decades and they are still performing well. If you care for your dental implants properly then they could last your lifetime, and dental implant surgery has an extremely high success rate that is typically around 95%. In addition to good dental care, it's important to make sure you maintain good general health, and habits such as smoking could affect the longevity of your implant.