If you have just lost some teeth, whether you are young and it was in an accident or you are older and their loss was more expected, then you are now faced with having to decide which way to replace them. Perhaps you have a choice between all 3 options: dentures, a fixed bridge or dental implants in Bromley. They differ wildly in cost. Dentures and bridges will set you back a few hundred pounds, dental implants cost a couple of thousand each. It's a massive difference. Is it worth the outlay?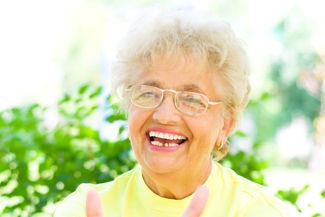 At Bromley Dental Practice, we think it is, and we'd like to tell you why:
Stability
The big difference between dental implants in Bromley and the other 2 methods of restoration is they way they get their stability. Dental implants are fixed into the jaw like natural teeth. This means that, once they have integrated with the jawbone, dental implants can chew anything that natural teeth can tackle. Get dentures instead and your food choices are severely limited as you will only have about 25% of your natural chewing power.
Bridges are more stable, but they get that by piggybacking on existing teeth, which have to be drastically reduced in size to be converted into buttresses for the bridge, effectively making them unusable as natural teeth ever again. Bit of a waste, we think.
More stability also means no embarrassing moments of wobbliness in your mouth, so you can relax and be spontaneous without ever having to worry that your false teeth will let you down.
Longevity
Dental implants last a long, long time. At least 15 years, but usually decades. This means that over time, the initial outlay for dental implants in Bromley can equalise with the repeated outlay for replacing worn-out dentures and bridges, which tends to happen every 5-10 years. It must be said that crowns on dental implants in Bromley may need replacing, but if you look after the implants really well, making sure to do everything, such as brushing, flossing and hygienist sessions, to avoid getting gum disease, then they can last for the rest of your life.