Cosmetic dentistry aims to give you a smile to a standard that makes you confident and happy. It can change your teeth from crooked and dull, to straight and gleaming, taking you from awkward and uncomfortable to self-assured and at ease with your appearance. Bromley Dental understands that, as an adult, getting your teeth fixed can be a daunting thought if you think about having a full set of metal front teeth braces. However we want you to know that there are other options available to you, to help you get the smile you want with more discretion through your cosmetic dentist in Bromley.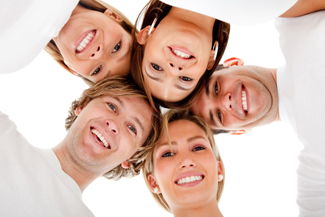 What are my options?
If you're wondering how to better your smile in order to boost your confidence in the workplace, at social gatherings or for social media there are many things you can do to enhance your appearance, ranging from a simple deep clean to orthodontic treatments.
Cleaning – a deep professional clean from a hygienist at your cosmetic dentist in Bromley can do wonders for the overall health and look of your teeth, it is an excellent place to start when you want to have some more work to improve their appearance.
White fillings – gone are the days where metal fillings glint in your mouth – unless you're a rapper with a platinum grill.  If you need a filling now we can offer a white option that is unnoticeable, no matter where it's placed in the mouth. We can also replace any dark fillings you may currently have to help make your smile pearly white.
Porcelain veneers – having stained or chipped teeth can be easy to cover up with veneers, that when placed over them, will make you look like you have a set of gorgeous white teeth even though you may be a habitual coffee drinker. Porcelain veneers let you cover up all manner of dental sins.
Teeth straightening – with invisible braces we can align your natural teeth in under a year, without anyone noticing that you are wearing any kind of appliance. A customised clear aligner will be fitted to your teeth to shift them in increments over time, it is completely removable for eating and brushing your teeth and won't get in the way of your lifestyle. We also offer an Inman aligner that can straighten teeth remarkably quickly and is often used in preparation for veneer placements to ensure a healthy and beautiful smile.
Dental implants – are used to replace missing teeth with long term results, they are permanent, secure and often a better option instead of full dentures, as they do not stand the risk of falling out, thus allowing you to continue your life with confidence.
Teeth whitening – a simple solution to a brighter smile, teeth whitening can be performed professionally at your cosmetic dentist in Bromley, or at home with a kit you can get from your dentist. It is an affordable way of making a subtle change with noticeable differences. Teeth whitening procedures can be done before veneers and implants are created for your mouth, as they can then be matched to your new whiter teeth.