Invisalign in Bromley is a popular and successful choice of teeth straightening that has been favoured by patients and dentists across the world. Since the introduction of Invisalign in Bromley just over two decades ago it has become firmly established as one of the most popular forms of teeth straightening for those with minor or moderate misalignment issues. Invisalign has already helped treat over 5 million smiles across the world and continues to grow in popularity, encouraging further research and development to enhance the treatment procedure even more. If you have been considering addressing the aesthetic issues of your teeth or you have heard about Invisalign in Bromley and want to find out more, then speak to our experienced and professional team here at Bromley dental practice. Find out more about Invisalign and how it can help address the aesthetic issues of your teeth and promote better oral health at the same time.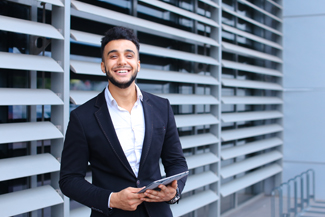 What are Invisalign aligners?
Invisalign aligners are clear, thin, thermoplastic aligners that are individually manufactured using the latest in digital dental technology to help create aligners that are comfortable to wear, highly discreet and effective in achieving precise results following strict adherence to protocol. This is an important factor in achieving successful results.
Invisalign aligners are removable and can be taken out of the mouth and replaced as necessary; however, you have to be dedicated to the treatment procedure and ensure that you wear the aligners for at least 22 hours of the day so that you can achieve the smile that you are aiming for. Invisalign works using a series of aligners and each aligner is worn for approximately two weeks until you move onto the next aligner in the series.
Each prescription varies as every smile is unique but the approximate treatment time with Invisalign is between 6 and 12 months. This is completely dependent on the extent of the misalignment that you begin with. Invisalign helps treat crooked or wonky smiles, protruding front teeth, overlapping teeth, small gaps in the teeth and bite disorders of the jaw.
Invisalign is suitable for mild or moderate misalignment issues of the teeth but you can speak to our friendly dentist here at Bromley dental practice to find out about the other teeth straightening procedures that are available for you if your issues are more complicated or severe.
A healthy, happy smile
By correcting the misalignment issues of your teeth using Invisalign, not only will you achieve a smile that is more attractive to look at but you will also promote better dental health and fewer dental complications in the future than if the misalignment of your teeth had not been addressed. Speak to us at Bromley dental practice today to book an initial consultation and find out if Invisalign is suitable for you. You will have an assessment of your dental health to make sure that Invisalign will be beneficial and will not harm your teeth or gums in any way. Soon you will be ready to begin your journey with Invisalign to help straighten your teeth and achieve a smile that you can happily show off to the rest of the world.