Modern dentists offer plenty of ways to improve the aesthetic appeal of your teeth. At Bromley Dental Practice, we provide a full range of treatments to enhance your dental appearance. Speedy improvements and long-term solutions are always available at the cosmetic dentist in Bromley. It's not unusual to become dissatisfied by the way your teeth look. As you age, your teeth will naturally develop visual features that can be distracting. We're here to help you achieve the smile you've always wanted.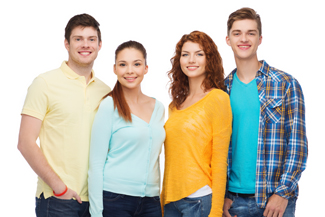 Repairs
At the cosmetic dentist in Bromley, you can have your chipped or misshapen teeth improved using dental veneers. These small pieces of precisely-shaped porcelain are attached to the surfaces of your teeth using a powerful bonding process. They'll restore harmonious outlines to teeth whose edges have been damaged. They're also useful in cases where there are small gaps between the teeth. It might seem like a small adjustment, but a veneer can make a big difference to your facial aesthetics.
If you need a filling because of dental decay, we can use substances that match the colour of your remaining tooth. The filling then blends in with its surroundings, and stays almost invisible when you open your mouth.
You can have your teeth whitened at the cosmetic dentist in Bromley. With this speedy treatment, your smile will go from discoloured to dazzling.
Long-term changes
Like many people, you might be looking for a cosmetic dentist in Bromley because you want to realign your teeth. Crooked smiles look unpleasant and can be a source of dental hygiene difficulties. We use invisible braces to correct your dental misalignment. Made of transparent plastic, these innovative appliances are a discreet way to improve the positioning of your teeth. They require time to do their work, but they don't disrupt your day-to-day life to the same extent as traditional braces that use wires and brackets attached to the teeth.
If you have lost teeth, the cosmetic dentist in Bromley can replace them using dental implants. These new teeth are attached to metal posts that integrate with your jawbone. Their stability and strength mean they function as well as natural teeth.