At Bromley Dental Practice, if you've got missing teeth, we know how to put a smile on your face that is aesthetically pleasing and functions as though you have a full set of natural teeth. Dental implants in Bromley can provide a solution to replacing a single tooth, multiple teeth or a whole set of teeth that is unidentifiable against any remaining natural teeth you may have. The result is simply a beautiful smile that is functional and effective. With our friendly and professional team, we can see you for late-night appointments and extended lunch appointments to ensure that we fit in with your busy lifestyle as well, so you shouldn't find it difficult to come and see us.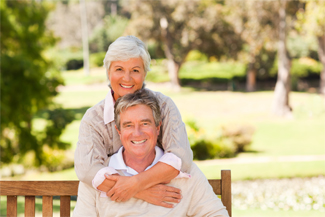 How do dental implants work?
Dental implants in Bromley are metal screws that are attached to the jawbone and act as artificial roots for your replacement teeth. The replacement teeth can be crowns, bridges or dentures and this depends upon how many teeth you need to have replaced. Replacement teeth are attached to the screws, and once the screws have fused with the body's tissues, they should be firmly fixed in place. They can be fitted using a local anaesthetic, and you will have temporary replacement teeth attached while the healing takes place. You will then need to come back for the permanent replacement teeth to be attached to the screws.
Why should I choose dental implants?
Dental implants offer a reliable method of replacing missing teeth; they shouldn't loosen when you are talking or eating as other treatments like dentures can do. This means that you can feel confident in continuing with your life as normal once you have your dental implants in Bromley fitted and they have healed. Caring for your implants is super easy as well. All you need to do is brush and floss as normal and come to see us for your routine dental checkups. It couldn't be easier! The added bonus with your replacement teeth is that they can't get cavities too! Another benefit of implants is that they also protect any remaining natural teeth that you have from being exposed to more bacteria; when you have gaps in your smile, they are vulnerable to developing more complications.
A further advantage of choosing dental implants is that they can even make you look younger. Yes, you did read that correctly! Sometimes, with gaps in your smile, your face can become shrunken in its appearance as the structure has been lost. By replacing missing teeth, your face is supported and can therefore appear more youthful, which is definitely a bonus!
Anything else I need to know?
You will need to have an initial consultation with us at Bromley Dental Practice to determine what the right course of treatment is for you. We will examine your mouth thoroughly, and if dental implants are a consideration, we will check whether your jawbone has enough bone density. Don't worry if there isn't, however, as we can also consider the possibility of a bone graft first to allow enough bone for the implants to be attached to. By having a consultation, we can discuss all issues with you and present the options to you so you can make an informed decision.
If dental implants are an option, let's get your smile completed and get you back on track.