If you have lost a tooth through facial trauma or tooth decay, you can feel confident that with our decades of placing dental implants Bromley, you will be benefiting from our team's experience, expertise and skill. Doctor Heidmiller has placed over 3000 implants over a 30-year career in dentistry.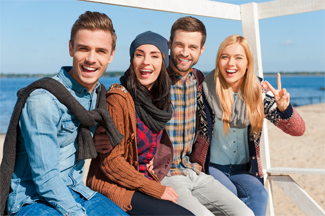 Tooth loss side effects
Sometimes losing a tooth is simply accepted as part of your life cycle, but the consequences of losing a valuable part of your anatomy should not be taken lightly. We may not care much about a missing tooth because when growing up, we would get rewarded by the tooth fairy, mouse or rabbit for losing a baby tooth. Your baby teeth are important because they have a very important role to play in your oral development. One of these roles is creating space for your adult teeth, so they are naturally dispensable. However, your adult teeth are the only set of permanent teeth you are going to get; therefore, they require a different level of care.
When you lose a tooth, the adjacent teeth will gradually move to fill the vacant space left. Your jawbone no longer receives the necessary nutrients and therefore begins to deteriorate. You may start to notice that your face has adopted a sunken look in the area of the lost tooth. Your gums will slowly recede, increasing the risk of gum disease, which will cause the loss of further teeth.
Technology and scientific progress
In this century, we have been fortunate to experience amazing developments in technology, and dentistry has been very quick to seize on the opportunity to adapt, develop and create new systems, treatments, equipment and techniques. All of these developments help us at Bromley Dental Practice to provide you with modern oral healthcare.
Bone augmentation has allowed us to reverse the process of jawbone degeneration so that more patients are now able to benefit from dental implants Bromley treatment. In the 1950s, implant treatment was in its fledgling stage, even though history shows that attempts were made for centuries to replace teeth with implants. Since the 1950s, technology has allowed dental science to take implant procedures to a level where it is now the treatment of choice.
Efficient and precise
We keep up to date with the latest equipment so that we can maintain our implant services at the highest possible levels of efficiency and precision. The administration of your local anaesthesia is computer controlled to deliver the precise amount at a given rate. The drilling of the hole to place the implant is computer-aided so that we can ensure that your teeth line up to give you a properly meshing bite. Everything we do is carefully planned and choreographed by the team to ensure that your implant works with utmost certainty.
Latest materials
The quality of the materials that we use in our dental implants Bromley are the very best, ensuring the longevity of your new prosthetic. From the titanium post that replaces your original tooth's root to the quality of the crown coloured and shaped to fit in with your natural teeth, all are of top quality.
Range of implants
We can use one implant to support up to four teeth in a row. Instead of a bridge, which requires the support of adjacent teeth that have to be redesigned to hold the bridge, we can place an implant. To accommodate the replacement of all your teeth, we can use just four implants. Our team can restore your mouth's natural cosmetic appeal and your ability to chew.
Stable platform
Because implants are based on how natural teeth work, you will enjoy the benefit of a stable set of new teeth, allowing you to eat the foods you used to enjoy.