Here at Bromley Dental Practice, we are pleased to be able to offer dental implants in Bromley as a form of replacing missing teeth. It might be that you have come to search for a method of tooth replacement due to already having missing teeth, or perhaps you have an extraction planned in the not too distant future. Whatever the case is for you, we would be thrilled to see you for a consultation so that we can recommend a suitable course of treatment for you.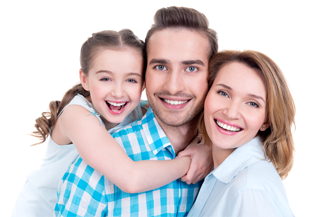 Once we have examined your teeth and mouth and had a discussion with you about your dental and medical history and your overall oral health, we may recommend replacing your teeth with dental implants in Bromley.
Dental implants in Bromley can be utilised in several different circumstances. Whether you have one missing tooth, a few, an arch or a whole mouth of teeth missing, implants could be used to replace them. Likewise, they can be used in situations where tooth loss has happened due to accident or injury or when teeth have been removed in a planned extraction. So, if you are looking to replace one or several missing teeth then dental implants could be a good option for you to consider.
Dental implants
A dental implant is created out of three separate components. The screw (which is often referred to as the implant) is usually made from titanium, which is considered to be hypoallergenic, and is implanted into the jawbone where the natural tooth root would usually be. The implantation of the screw requires tapping or screwing it into the jawbone, and healing time is required after this step before continuing with the long-term replacements. It may be that our dentist can provide you with a temporary fixture throughout the duration of your healing period.
Following your period of healing time the abutment can be placed into the screw. This post connects the screw and the visible portion of your replacement tooth (or teeth), providing a surface for the latter to be adhered to.
The visible part of your replacement is normally a crown or a denture, depending upon how many teeth you are missing. Crowns are most commonly used for single missing teeth, or where a couple of teeth are missing but in separate locations. Where several teeth are missing in a row one implanted screw can be used to support up to 4 replacement teeth (although this is case dependent).
In cases where you are missing a whole arch, or indeed all of your teeth, it may be that the most appropriate way to address this utilising dental implants is by implanting just a few screws in a strategic way and using these to secure dentures into place. Most often when this happens, our dentist would use 4 or 6 screws as the anchors for your dentures. Of course, if there is a reason to do this differently for you and to meet your dental needs, then this is something that we will discuss with you during your treatment.
If you would like to find out more about dental implants, or other dental treatments at Bromley Dental Practice, we look forward to speaking with you.