At Bromley Dental Practice we pride ourselves on our patient-first approach to dentistry. We believe that the individual needs and requirements of each patient should precede all else, and we form long standing relationships with our clientele that are based on trust, understanding and respect. Opened by Dr Zaki Bashir, a graduate of the University of Bristol and a cosmetic dentist in Bromley, the firm has continued to grow and evolve over the years and today we are proud to say that we have helped restore the smiles of countless happy patients, and we are not showing signs of stopping.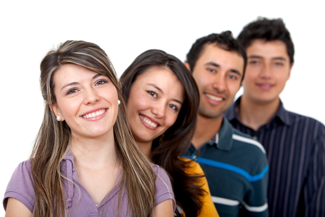 Allowing smiles to flourish
One of the things which makes the Bromley Dental Practice highly popular is the wide range of cosmetic dentist procedures and methodologies we offer. We understand that a wholesome and bright smile has a massive effect on a person's confidence and self-esteem, and that contrastingly, having teeth that are stained, discoloured or damaged can have a detrimental impact on a patient's social life and self-esteem. As such, there is a large demand for cosmetic dental procedures that target superficial dental issues and boost the overall attractiveness of a patient's teeth.
Cosmetic treatments
There are numerous cosmetic procedures on offer here in Bromley, including teeth whitening, white fillings, invisible braces, porcelain veneers, dental implants and CEREC. Treatments of this nature can have a massive effect on improving the overall wellbeing of our patients and on restoring their smiles to their fullest potential. Teeth whitening consists of power-cleaning a patient's teeth with specialist equipment, and we also offer a range of home-whitening kits that can be used at a patient's leisure. White fillings are another cosmetic procedure we can offer and consists of filling any cavities in the teeth with a white polymer which matches the shade of  surrounding teeth – and thus is almost impossible to detect. Invisible braces can be provided by the cosmetic dentist in Bromley procedure available at the practice. These are an orthodontic alignment procedure similar to conventional 'train-track' fused braces, only they are constructed from a transparent, sometimes removable plastic so they are virtually undetectable from the outside – thus allowing patients to undergo dental alignment without attracting any unwanted scrutiny. Porcelain veneers are a cosmetic dental procedure in which the visible tooth surface is covered with a thin shell of porcelain that it attached to the front of the tooth with extremely strong bonding material.
Bridging the gaps
Another dental procedure which is available at Bromley Dental Practice is the installation of dental implants. Implants are only generally used in instances where teeth have been lost or damaged beyond repair and can be massively effective in bringing back a patient's self-esteem and confidence. The process of installing dental implants consists of a small hole initially being drilled into the space or spaces in the patient's mouth where teeth are missing, and a titanium screw being inserted. Then, after a brief healing period during which time the titanium fuses with the bone in the patient's jaw – a replica tooth (or teeth) created from porcelain is permanently attached to the screw, and thus the gap is bridged and the patient's smile is restored.