If you have had the misfortune to lose a tooth due to either an accident or natural causes, you may be looking at ways to replace it and restore your smile to what it once was. A missing tooth can have an impact on your oral health as well as your confidence. At Bromley Dental Practice, we understand the negative impact this can have, which is why at our practice we offer treatments within restorative dentistry including dental implants in Bromley which will help you on your journey to replacing your missing tooth and restoring your smile to what it once was.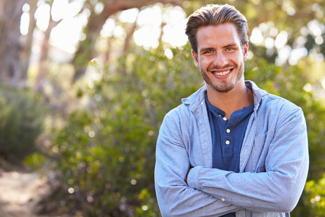 Dental treatments we offer for missing teeth at Bromley Dental Practice
If you are considering dental implants to replace a tooth or multiple teeth, at our practice we offer a number of dental treatments in restorative dentistry. One of the most well known dental treatment options is to have dentures. Made from hard wearing materials which are designed to look like your teeth and gums, dentures are considered to be a suitable option for those who have lost a few or all of their teeth. Although it may take some time to get used to, dentures are made so they fit snugly over your gums and in time, you will be able to speak, eat and chew without any difficulty. Dentures are also removable, so you will be able to ensure that they are regularly cleaned, which is important as not keeping up with your hygiene regime can lead to oral health issues such as bad breath and in some cases gum disease.
If you are still worried about the prospect of your dentures falling out whilst you are talking or eating, another option which is available for our patients who have a missing tooth are dental implants in Bromley.
What are dental implants?
Another form of restorative dentistry, dental implants in Bromley are used to replace teeth. Dental implants are essentially screws made typically of titanium which are inserted into the jawbone where the tooth should be and a crown, bridge or dentures are fixed onto the screws. In order to ensure you are suitable for the treatment however, you will have a consultation with one of our experienced dentists. This will give us the opportunity to determine whether you have a good amount of healthy bone to support the screw.
For this procedure, the screw is inserted into the jawbone surgically and under a local anaesthetic. Once this has been done, you will then be asked to return to the practice after a number of weeks. This is in order for the screw to fuse with the jawbone and heal completely. Once this has happened, when you return to our practice, the implant (which would have been custom made to match your remaining teeth) will be fixed onto the screw.
Dental implants in Bromley are made to look and feel natural, practically indistinguishable from your remaining teeth. This treatment also allows you to eat and chew normally, restoring the full functionality of your teeth.