Dental implants are a popular option these days, but are they right for everyone? For anyone who is considering this treatment, there are a range of factors to consider. Here, we explore what implants actually are; address any concerns about discomfort; and discuss what our patients can expect when opting for dental implants here in our Bromley practice.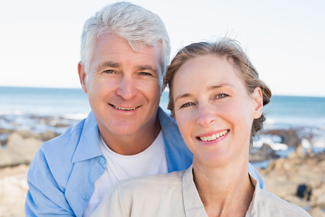 What are dental implants?
This is a treatment for the resolution of a missing tooth or teeth. They are primarily composed of a titanium screw that is used as a substitute for the root of the tooth. Titanium is used because it is biocompatible, meaning that the body readily accepts this material. The metal becomes part of the patient's surrounding healthy tissue over time; allowing the implant to function as naturally as possible.
Implants are often chosen as a good alternative to dentures, and can be the best option for patients who are looking for a long-term and durable solution to a missing tooth or teeth.
Does it hurt to get the procedure done?
Here at Bromley Dental Practice, we understand that our patients may feel a little nervous about getting implants fitted. We do everything we can to ensure that patients feel at ease about improving their smile; including keeping the patient informed about every step of the process; answering any questions; and addressing any concerns or worries.
Most patients can expect minimal discomfort getting dental implants in Bromley. We use a local anaesthetic to numb the mouth, which minimises any feeling at all during the procedure. After the anaesthetic has worn off, some people experience a little discomfort, though this should resolve in a relatively short time. Within a couple of weeks, most patients have recovered well and the area into which the implant was fitted has healed nicely.
What can the patient expect?
Those considering implants should make an appointment at Bromley Dental Practice to discuss their options. We'll set up a comprehensive consultation to make sure that this is the right treatment. The dentist will listen to any concerns, and ask questions about any difficulties as well as finding out about the general oral health of the patient. We might give you some x-rays or scans to get a clearer picture of your mouth and jawline.
Having conducted all the necessary investigations, and ensuring that this is the correct treatment for the patient on an individual basis, we will then create a personalised plan of action. We'll explain what will happen before treatment, what to expect during the implant fitting, and what the after care plan will be.
Plan of action for those considering dental implants
Here at Bromley Dental, we offer a wide range of treatment options. Patients should read about how we can help, then make an appointment with us to talk about the best way to improve their smile. We are here to help every patient feel confident about their smile, and happy to allay any concerns or questions so that everyone has the best possible experience.