Are you embarrassed by a gap in your teeth?
Throughout our lives, we may develop gaps in our smile due to injury, illness or just bad luck. This can cause a huge knock to a person's confidence, causing them to smile less and feel ashamed about how they look.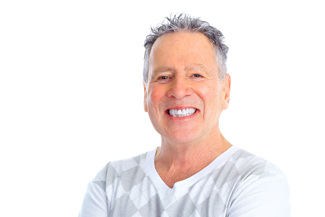 Even if you already have full or partial dentures, you may feel as though you need something more secure and longer lasting.
At our dental surgery, we are able to offer you the specialist help of a cosmetic dentist in Bromley. Our cosmetic dentists will be able to assess your situation and provide you with a suitable treatment solution, to fill in those gaps and boost your confidence.
What are dental implants?
Dental implants are composed of two parts, small, metal screws placed into the jawline and the porcelain teeth or 'implants' screwed on top. These teeth can be comprised of full sets of dentures, bridges or single teeth.
Implants provide a clinically safe way to giving you a great smile whilst also allowing you to be able to bite and chew food with ease. Unlike dentures, you won't have to worry about them falling out when you are biting into tough food!
Does it hurt?
One of the most common questions we get when a patient has chosen implants is 'will it hurt?' Many people who have had dental implants fitted have stated that having teeth removed or losing a filling is actually more painful.
During the actually fitting procedure, you will not feel any pain, our team of cosmetic dentists in Bromley will give you a powerful anaesthetic. After the process is complete, you may feel something akin to a dull ache, but this is minimal.  If you are in severe pain post-procedure, please come back and see us right away or schedule an appointment with an emergency dentist, as you may have an infection.
Why choose us?
There are many cosmetic dentists around the city of London, each offering their own unique brand of service. We think this is great, more people can get access to professional services and as a result, more people are confident and eager to show off their smiles.
At Bromley Dental Practice, we will always ensure that we listen to our patients and take the time we need to complete any cosmetic work to the highest standard.
We offer late night appointments for our busier customers and we also offer lunchtime opening hours too, for their convenience.
Our dentists and hygienists use the most modern technology to complete all manner of dental work in the fastest time, while also providing our patients with astounding results. Our track record and testimonials from former customers can attest to this.
We are a truly dedicated team, who want to improve the confidence of our customers and we even offer a range of dental payment plans based on appropriate treatment, to spread the overall cost of dental procedures. As cosmetic dentists in Bromley we know how important and beneficial treatments can be to our patients.